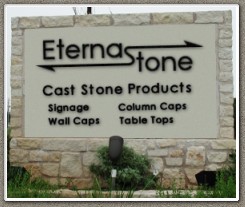 The EternaStone cast stone process was established in 1984 and is located in Houston Texas. The revolutionary process of making signage in this manner was brought to the forefront by EternaStone, LP and has made its presence known in the signage community ever since. The versatility that EternaStone cast stone products provides to its customers is remarkable in its beauty, durability and cost effectivness.
At EternaStone, LP we understand the needs of our customers and their satisfaction is a top priority to us. We care about the accuracy, quality and durability of every project and will not settle for anything less. Our finished projects have the quality you want and the look you envision because we do it right the first time. This commitment to quality workmanship has earned us the respect and confidence of existing and new customers across America.
If you are interested in finding the highest quality product and service that is superior to the competition than EternaStone, LP is the answer you have been looking for.