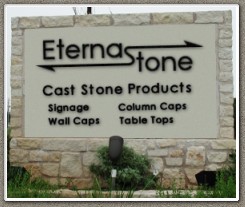 At EternaStone, LP we specialize in custom cast stone signage and signage blanks, but have other cast stone products to offer as well. Cast stone can be molded into infinite shapes and sizes which is ideal for any of your project needs. We understand the needs of our customers and their satisfaction is a top priority to us. Our finished cast stone projects have the quality you want and the look you envision.
EternaStone cast stone is a matrix of natural stone particles bound together by an advanced polymer for strength, function, and eternal beauty. Superior strength and built in flexibility provide the ability to produce thinner, lighter weight products that combine for ease of handling, shipping, and job installation.
EternaStone cast stone offers a lighter finished product than concrete but with all the beauty of a finely crafted stone. The versatility of EternaStone cast stone is unlike any other signage process while maintaining durability at a cost-effective level.